Featured Item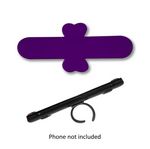 Smartphone Silicone Kickstand (Super Sav...
Great promotional product which easily attaches to a smartphone. It will turn it into wallet/phone kickstand for secure storage of debit, credit cards, license and dollar bills. It is made with sturdy...
$0.58 - $1.32
Trademarks Promotional Products
Welcome to Trademarks Promotional Products and our search tool. To get started, click on a category on the left. You can also use the basic search or advance search on the top left. Happy Searching!